Dinner for 8
A great way to meet others from Spring Creek
and enjoy a good meal at the same time!
"The dinner table is where Character is built, Biblical truths are taught and Community is strengthened!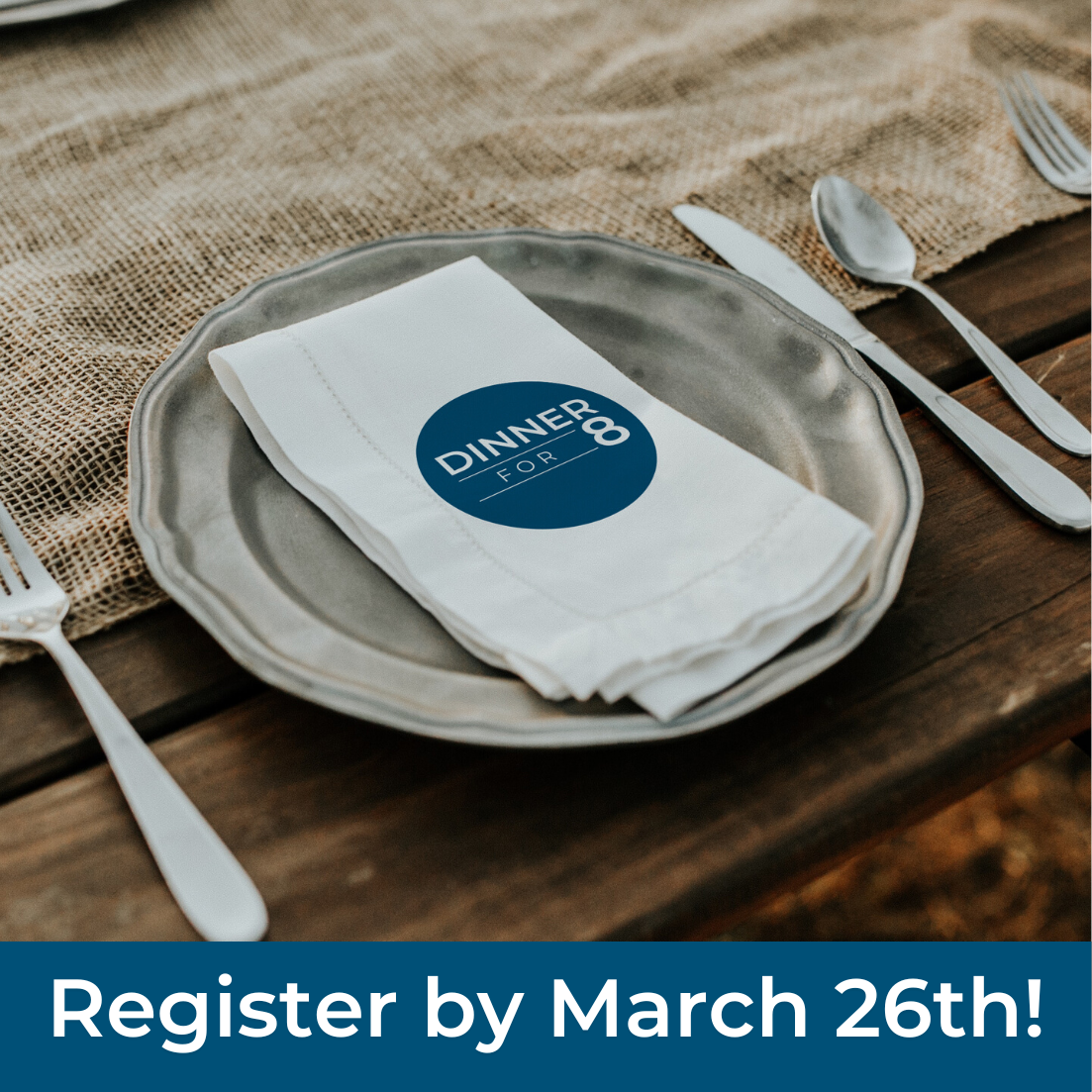 Dinner for 8 groups commit to share three meals together before the end of Summer. Each group will be equipped with a mini-devotional and some discussion questions. The emphasis is on fun and fellowship!
Sign up and you will be placed in a group of about eight adults who live in your area and you will share in three casual meals from April – August. Each group decides the specifics of when and where they will meet, and what food they will have.
Summer is a great time to get the kids out of the house and meet other families and friends! Meet up at a park, the church soccer field, or in someone's backyard. Enjoying the Wisconsin summer with new friends and good food - that's a recipe for great community!
FAQ's
What is Dinner for 8
Dinner for 8 is a great way to meet others from Spring Creek that you may not already know. Groups plan their own meals and get together three times between April and August. You could share a meal at a participant's home, at a local restaurant, the church, or wherever the group decides. The emphasis is on fun and fellowship!
How does Dinner for 8 work?
Sign up and you will be placed in a group of about eight adults. We will try to identify other adults that live in the same community as you. On Sunday, April 2nd, the church will host a Dinner for 8 Kick-off luncheon where you will meet your group and schedule your first dinner. A point person will be assigned to the group who will send our reminders of dates/times/locations for each dinner. Before the evening ends, the group will plan their next dinner
What does a Point Person do?
The Point Person sends out reminder e-mails to the group on the upcoming date/time/location of the next dinner. They will also facilitate or ask another member to facilitate the group discussion for each dinner.
Who makes the food?
If the group meets in a home, it's potluck! Usually the host will make the main dish, and other participants will bring coordinating sides or desserts. Potluck dinners are also a good way to simplify meal planning and equally distribute the costs. Consider picking a dinner "theme night" (i.e. Italian night, backyard barbeque, soup night, breakfast for dinner, etc.), and everyone can bring a dish that goes along with that theme. Some groups may also choose to visit local restaurants or reserve a room at the church.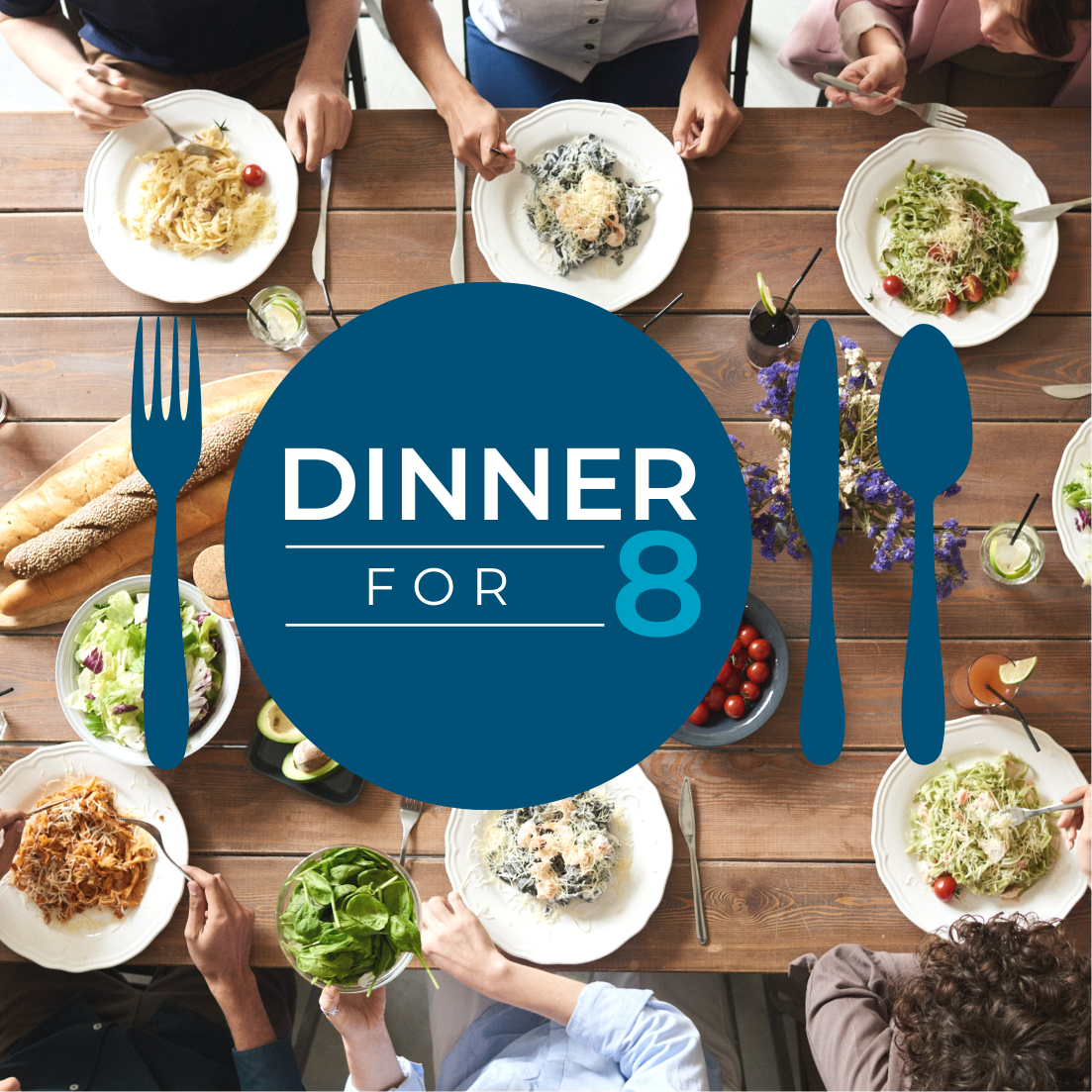 FAQ's (continued)
I want to participate, but I don't have room to host a dinner/I really can't cook/I'm on a budget and can't eat out.
Our desire is for you to spend time together getting to know each other and include everyone. Your group may choose to repeat a host home or eat out, keeping people's budgets in mind. If finding a host home is difficult, your group is welcome to contact the church office and schedule a room at the church for dinner. We want everyone to feel that they can participate.
I have children, can they be included in Dinner for Eight?
Dinner for Eight groups will have the freedom to decide if and how kids are incorporated into dinnertime, depending on your preferences. If it's a summer barbeque at the park - that's a perfect venue for families to enjoy getting to know each other. Having "adult time" is also much appreciated when getting to know others in the group
What happens after our last gathering?
We are confidant that you will have a rewarding experience and look forward to similar experiences at Spring Creek Church. After the last gathering, you may decide to sign up for another round of Dinner for Eight with a different group of folks or your group may wish to stay intact and continue meeting.
If you choose to stay together, and if you are interested in enriching the content of your meetings, the Life Groups Pastor can provide you guidance and resources to help you get started. Adding elements of study and service to your group will allow you to continue to deepen the fellowship you have already established through Dinner for 8.
Further questions, contact Pastor Jeremy Rush